Last week, I wrote about my longing for Windows users to have the same robust experience macOS users have for accessing iMessage on their Mac devices. Intel's Unison app, now available on select Intel Evo-certified laptops from HP, Lenovo and Acer — and possibly more Windows laptops in the future — is a modest step in the right direction.
With that in mind, I've moderated hopes for Microsoft's updated Phone Link app, which is now available in Windows 11's preview build 22623.1325. Unfortunately, Microsoft's attempt to forge robust iPhone text messaging support in Windows is equally weak.
Microsoft formally provides access to iMessage on Windows using its Phone Link program. For Windows Insiders, a preview of the upgraded app is now possible. With the upgrade, the updated Phone Link app enables iPhone users to make and receive calls, send and receive messages using iMessage, and view their phone alerts from inside Windows 11. The program also allows iPhone users to connect their handsets to Windows laptops or PCs. ,
What is phone link?
Unlike the Intel Unison app, which users will need to download from the Windows App Store on both their PC and iPhone, Phone Link is embedded in this new preview build of Windows 11. The app connects Windows machines to iPhones via Bluetooth, sending instructions and messages. iMessage App.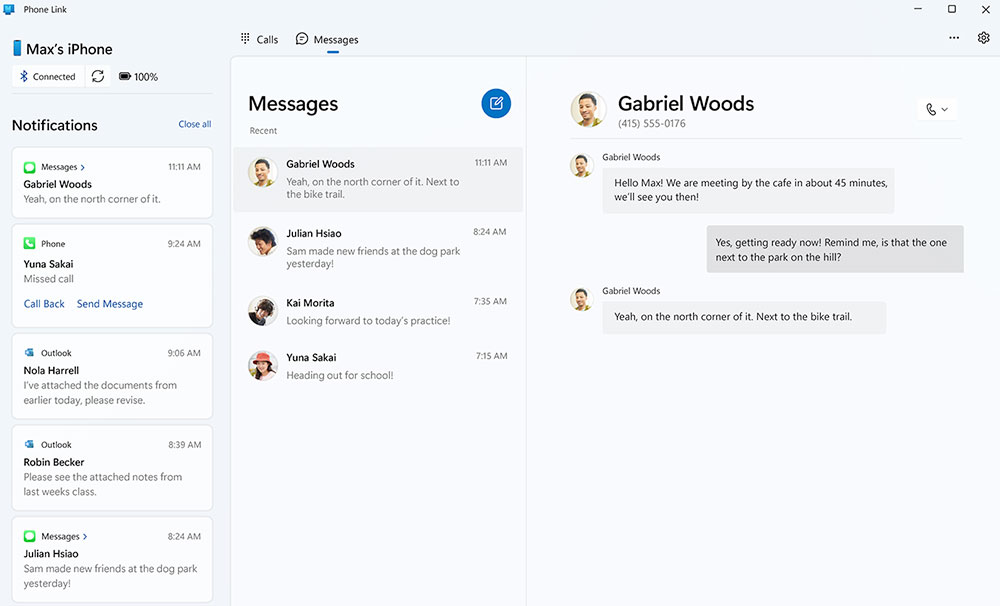 Phone Link (Image Credit: Microsoft)
---
Sadly, Phone Link has the same limitations that plague the Intel Unison app. You can communicate directly from your PC with contacts who also have iPhones. However, you will not be able to participate in group messages or send pictures in communications. PC users will see their iMessage conversations in truncated form.
limits, limits, more limits
Only messages sent or received through the phone link are shown in discussions, so you won't be able to see the entire communication history with the other party. This Microsoft app cannot differentiate between a text message received via iMessage and a regular SMS message; Phone Link uses neither a blue nor a green bubble, which is a significant text messaging experience concession compared to using an iPhone with a macOS device.
Since Phone Link can only display photographs on your phone, the app lags a lot when using a macOS device. The image limit is only 2,000 of your recent pictures; Neither video files nor albums are supported. Also, you can't transfer files and images from your computer to the phone, and there's no way to transfer files from phone to computer. These limits are almost laughable compared to using a macOS device with an iPhone.
on the bright side
Microsoft has never enabled calls or messaging for iPhone users until now, and iPhone integration for Windows still isn't comparable to what's offered for Android. In addition to being native, Phone Link is part of Windows 11, unlike previous PC Link apps from Intel, Dell, and other companies that provided a basic level of iPhone integration.
It looks like with Phone Link, Microsoft seeks to provide the same positive Android phone experience that Windows users now have for iPhone users. In that regard, Microsoft's heart seems to be in the right place, although its execution with Phone Link falls short.
While the Phone Link doesn't have any Photos connectivity, I should point out that Microsoft's Windows 11 Photos app already has iCloud Photos integration. Eventually, this capability may appear in PhoneLink as well. In addition to this new Phone Link capability, other important new features in the Windows 11 Preview update include AI-powered Bing on the taskbar, a screen recording tool, and advanced touch customization.
Microsoft began testing this week with a "limited number" of testers. If interested, you can try out the new Phone Link functionality for iOS via the Dev, Beta, and Release Preview channels for Windows Insiders. Microsoft's Windows team has indicated that it will broaden the preview's availability to additional Insiders over time based on the feedback the company gathers with this first set of Insiders.
same old ecosystem story
I've mentioned this repeatedly in previous analyses, but the lack of tight integration between the iPhone and Windows is a significant problem for the industry.
Solutions like Microsoft Phone Link, Intel Unison, and Dell and others are all workarounds that feel gimmicky and patchwork-like, especially for users who have played in Apple's ecosystem for a limited amount of time.
While I give credit to Intel and Microsoft for trying to solve the problem, both companies' hands are tied until Apple fully supports the iPhone in Windows.
With the overall PC market returning to its pre-pandemic flat (or even contracting) levels this year, perhaps coupled with recessionary conditions that will lengthen the PC buying cycle, there will be real growth in the Windows ecosystem. The lack of iPhone integration is hard for both the consumers. and business.
windows 11 high points
Keeping the iPhone integration issue aside, there's a lot to like in Windows 11, which has turned into a compelling alternative to macOS.
Compared to Windows 10 and earlier versions, Windows 11 offers faster startup times, better resource management, and better laptop battery life. In the user interface area, Windows 11 features a redesigned UI with new animations and visual effects. It also introduces a new Start menu design that places app icons at the center of the screen, which promises usability benefits.
Windows 11 also sports new productivity enhancements with a new feature called Snap Layouts, which allows users to keep multiple apps side-by-side with predefined layouts.
A new virtual desktop feature in the latest Windows 11 lets users create multiple desktops for different tasks and several new security features, such as a built-in ransomware protection tool, hardware-based isolation for sensitive processes, and better security for remote working scenarios. make capable. ,
Finally, Windows 11 is designed to be backward-compatible (a historical Windows strength) with most Windows 10 applications and hardware.
While Windows' lack of iPhone integration ultimately doesn't undermine Windows 11's value proposition, iPhone integration is a missed opportunity for Microsoft that may never be resolved.
Cross-platform interoperability is a critical element of the Apple ecosystem, and it's hard to imagine any scenario where Apple hands Intel or Microsoft the "keys to the kingdom" because there's no business upside for Apple.
The losers, of course, are the millions of Windows users who own iPhones and have to sub-optimize their overall productivity.